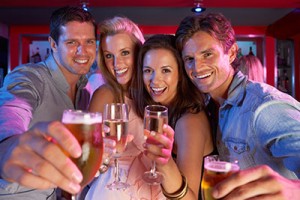 You won't have far to go for entertainment in the heart of the historic district of Billings. Montana Avenue bustles during the day… and shines at night, offering music, art, dancing, comedy, theater, artisan breweries and distilleries- all within walking distance.
Within one block are the McCormick Café for breakfast and lunch, the Rex Restaurant and Bar, Carters Brew Pub, Angry Hanks Microbrew, Uberbrew Brew Pub, the Railyard Bar & Casino, Don Luis Mexican Restaurant, Lilac Fine Dining Restaurant, Dickies BBQ, and Ciao Mambo.
The downtown Crowne Plaza, Northern Hotel and Best Western Clock Tower Hotels are just two blocks away. The Carlin is only a five minute taxi ride from the Billings Logan International Airport.
For your convenience, here are a few of our neighbors!
McCormick Cafe
Where the Locals Eat Breakfast & Lunch
Serving Sunday Brunch
2419 Montana Avenue
(406) 255-9555
Café Zydeco
2503 Montana Ave
(406) 248-3440
The Rex Restaurant
Certified Angus Beef, Seafood, & More
2401 Montana Avenue
(406) 245-7477
Carter's Brewing
Brewery and Taproom
2526 Montana Avenue
(406) 252-0663
Uberbrew
Brewery and Restaurant
2305 Montana Avenue
(406) 534-6960
Harry Koyama Fine Art
2509 Montana Avenue
(406) 259-2261
Jp's Hair Studio
2513 Montana Avenue
(406) 259-4004
Toucan Gallery
Gifts, Pottery and Fine Art
2505 Montana Avenue
(406) 252-0122
Lilac
Local from scratch cooking
2515 Montana Avenue
(406) 969-4959
Far West Gallery
2817 Montana Avenue
1-800-793-7296
AAA Oxford Antiques
2411 Montana Avenue
(406) 248-2094
Angry Hanks
Local Microbrews
2405 1st Ave N
(406) 252-3370
Don Luis
Billings Finest Mexican Restaurant
15 North 26th Street
(406) 256-3355
Rainbow Bar
The Original Bar on Montana Avenue
2403 Montana Avenue
259-0047
Dickey's Barbecue Pit
2519 Montana Avenue
(406) 969-3909
Nova Center for the Performing Arts
2317 Montana Avenue
406-591-9535